SMOK Stick Prince Baby Starter Kit 2000mAh Built-In Battery with 4.5ml TFV12 Prince Tank

( Available at Toronto Ontario Canada Location )
✓✓✓ SagaVape.com VERDICT: A complete starter kit with built-in 2000mAh battery MOD, combined with the latest 4.5ml TFV12 Prince Tank By SMOK, delivers huge clouds, unbelievable flavouring and smoothness has yet to be seen. ✓✓✓
The Stick Prince Baby kit from SMOK combines the TFV12 Prince sub-ohm tank with a 2000mAh single button regulated stick battery.
The 'smart mechanical' battery has a range of 3.4 - 4.2V with low voltage safety protection - at 3.3V the firing LED will flash 15x, and power will shut off.
The TFV12 Baby Prince by SMOK is the updated offspring of the original Cloud Beast King. "Junior" is a versatile, powerful sub-ohm tank for all day use. The 25mm wide Prince features a locking slide to fill top to prevent the possibility of leaks, highlighted by a cobra resin 810 drip tip. The crown style knurled cap and airflow control ring are easy to grip (even when slippery from e-liquid), bubble tank makes for a whopping 8mL tank capacity!
The TFV12 Baby Prince tank also features an all new coil system with a range of options to produce thick flavorful clouds. Included with the kit are two 0.17ohm V12 Prince-M4 Quadruple Coil Heads with an extended range of 30 - 70W.
Features:
Tank Dimensions: 63mm tall x 25mm wide base - 28mm wide bubble tank
Locking swivel top fill system
Tank Capacity: 8mL
SMOK V12 Prince coil series

V12 Prince-M4 Quadruple Coil Head

0.17 ohm
30 to 70W extended range
40 to 60W recommended range

Compatible with additional V12 Prince coils not included

Dual adjustable bottom airflow
Includes:
1x SMOK TFV12 Baby Prince Sub-Ohm Tank with 8mL bubble glass
2x V12 Prince-M4 Quadruple Coil Head (1x pre-installed)
Spare parts pack
User manual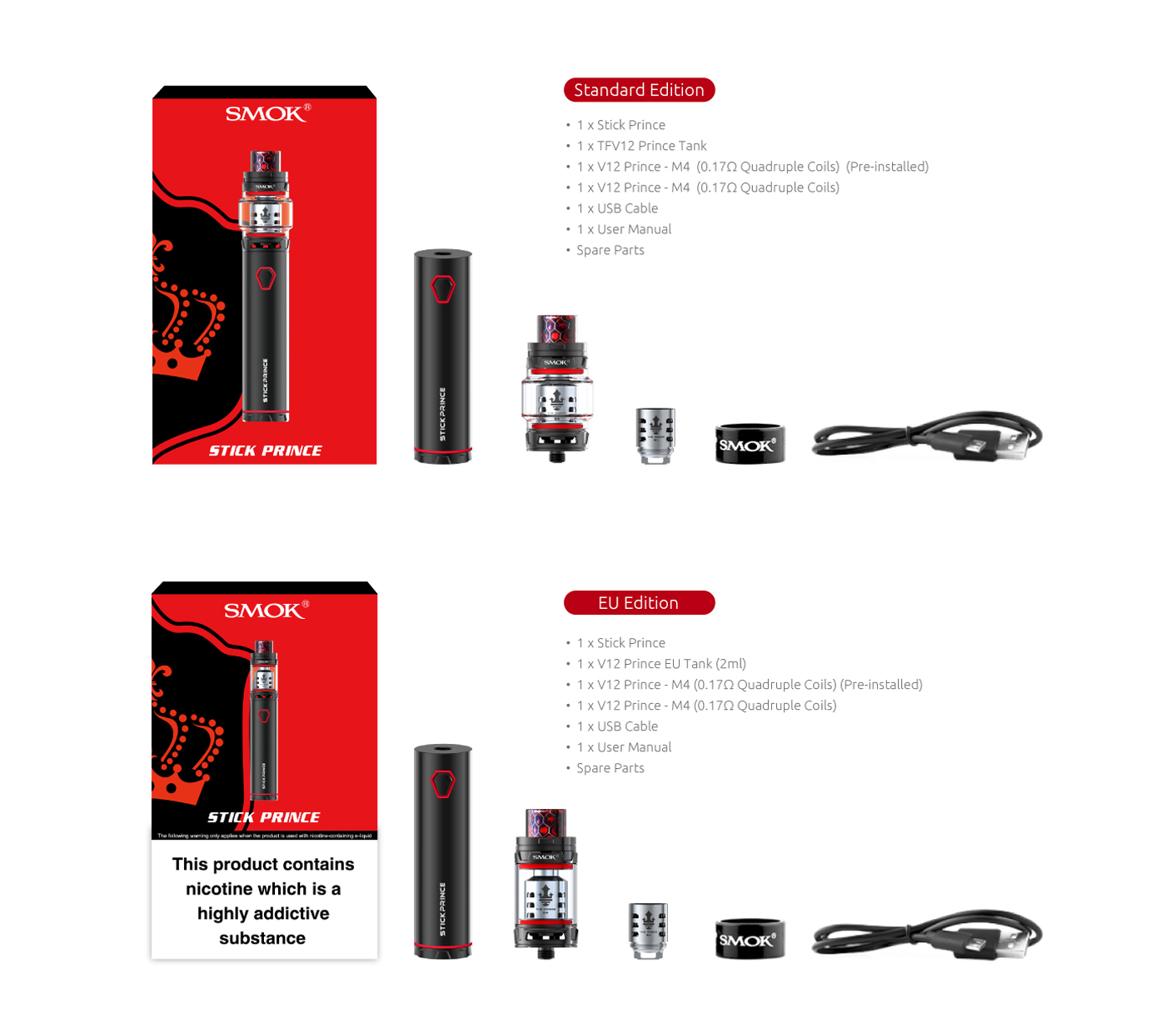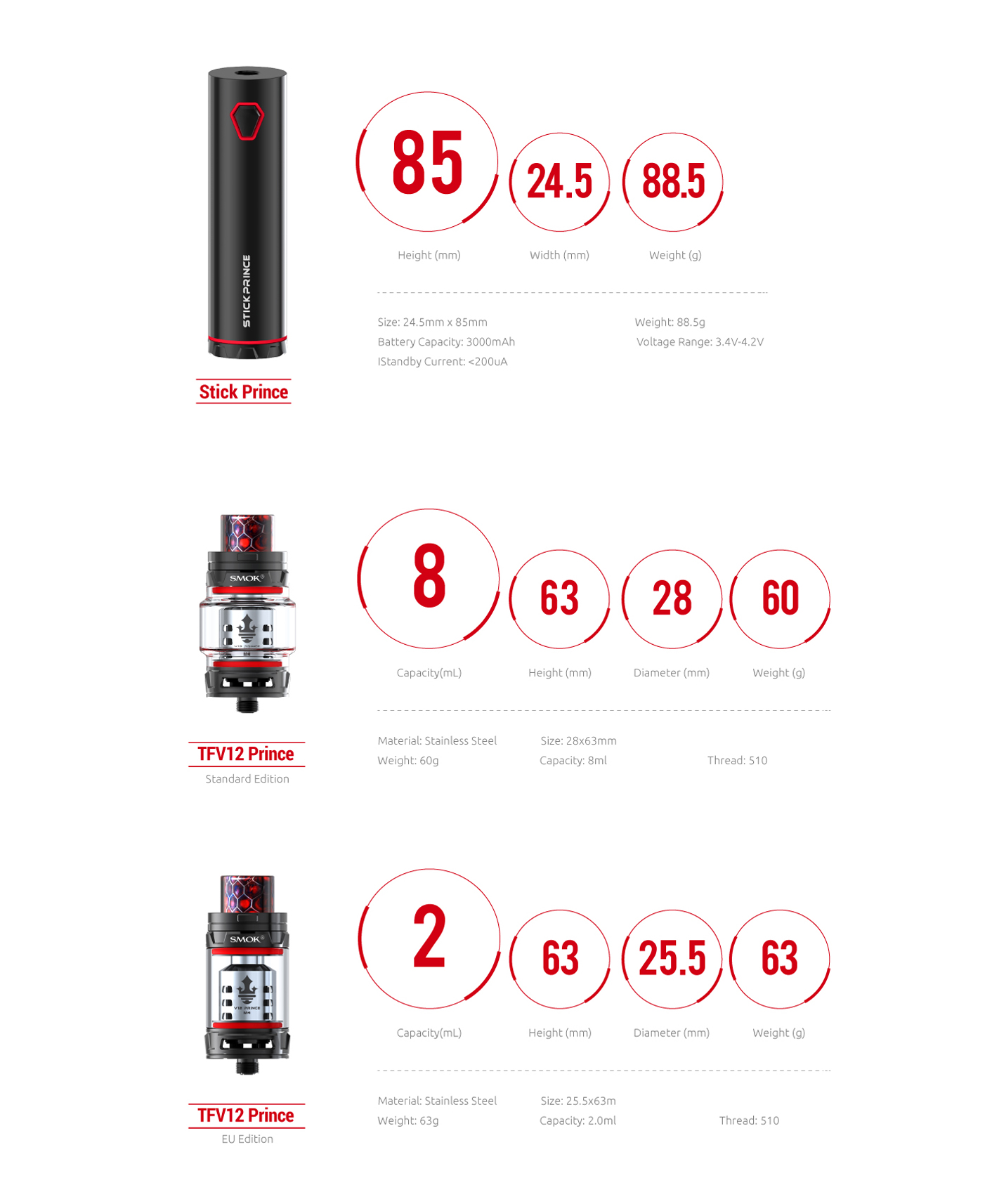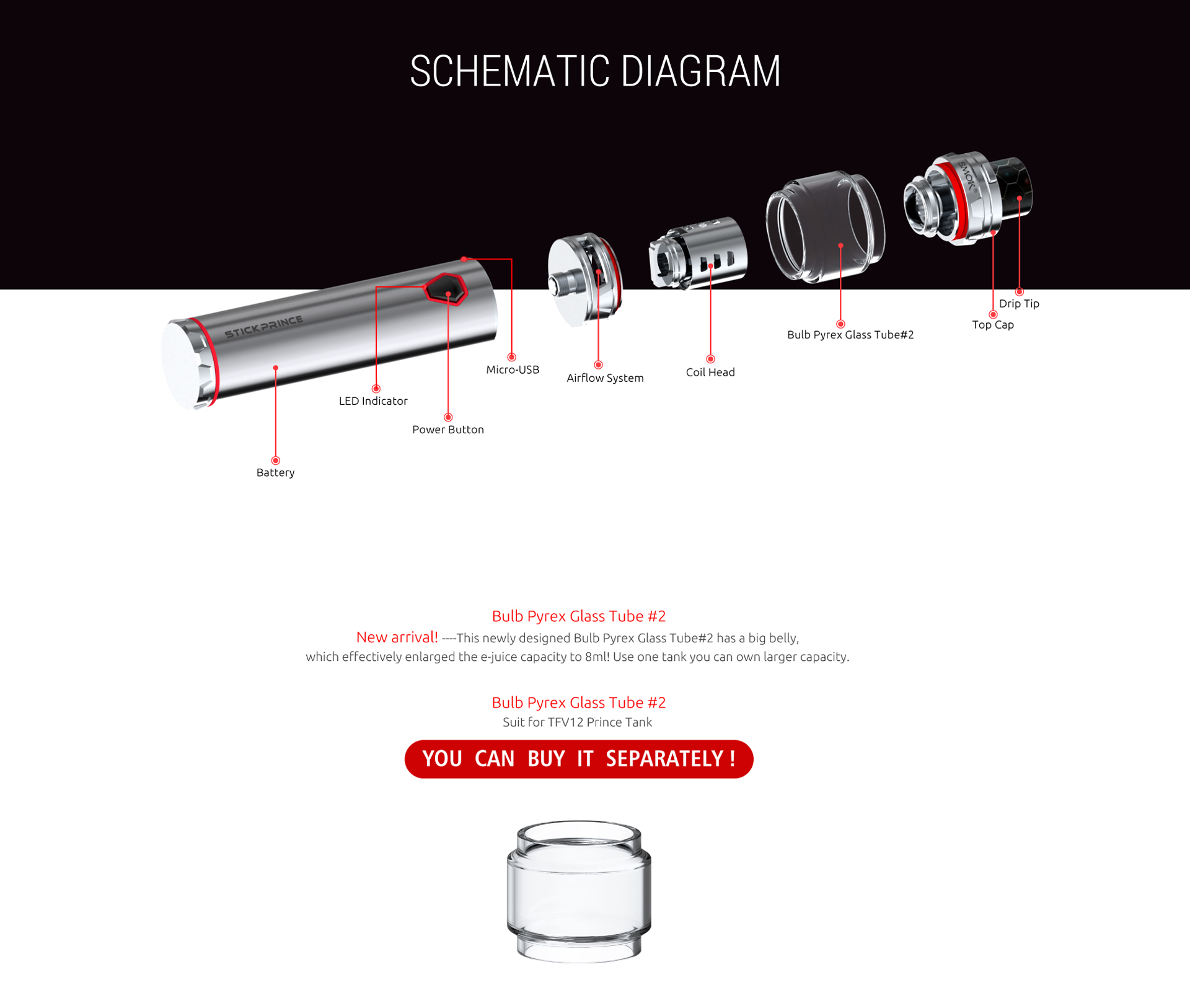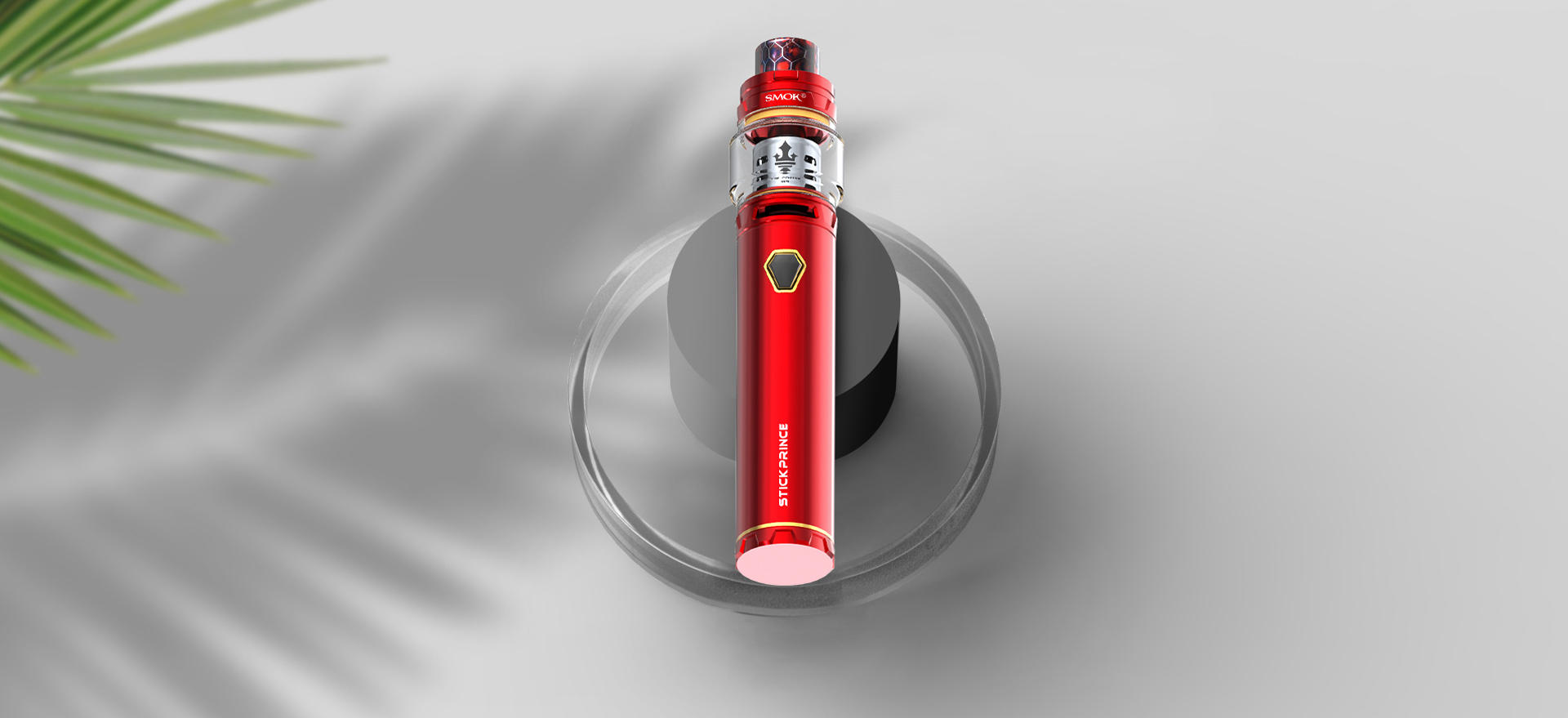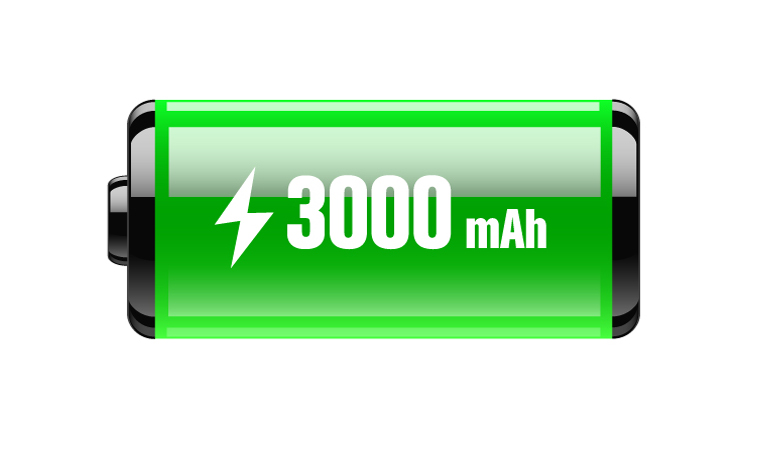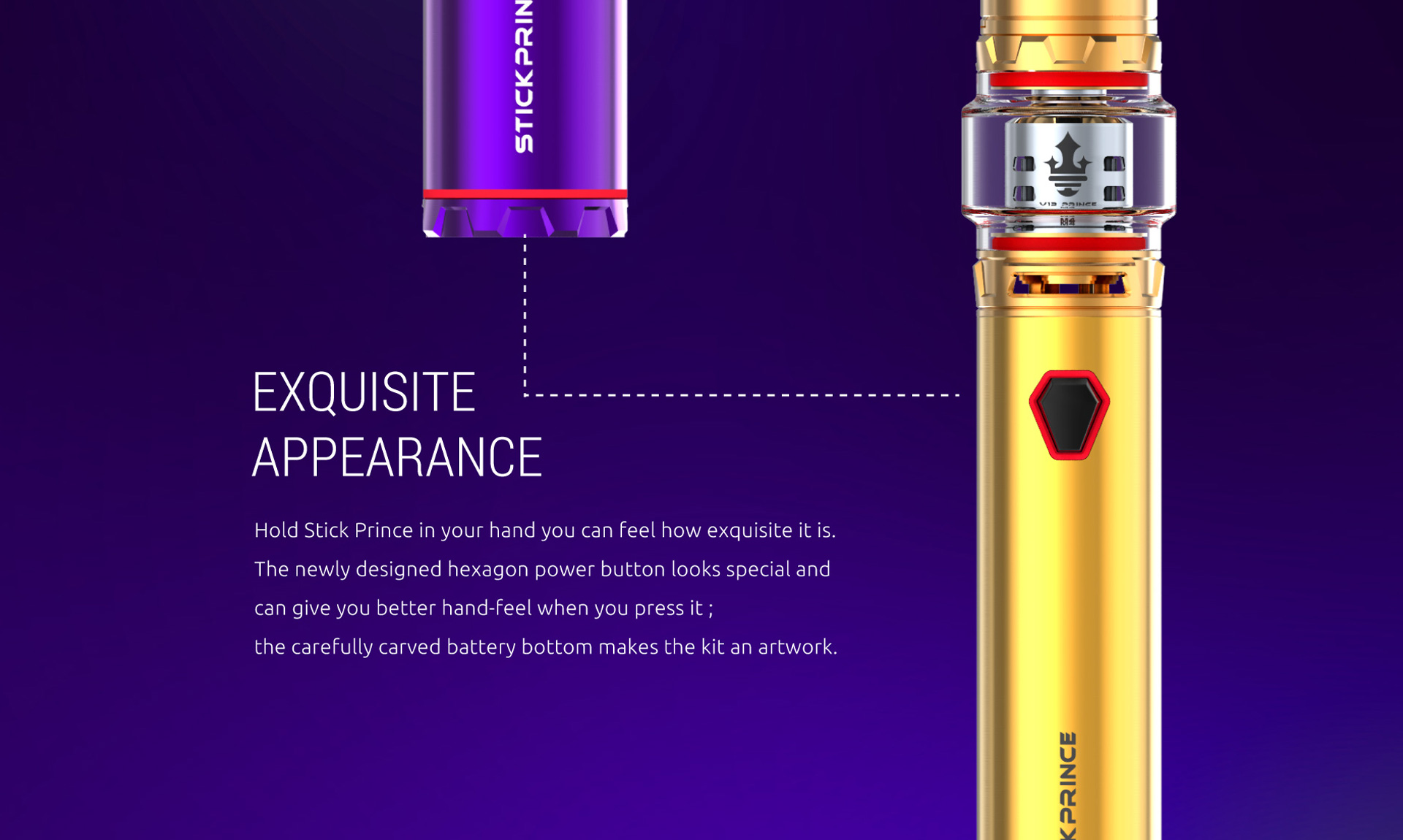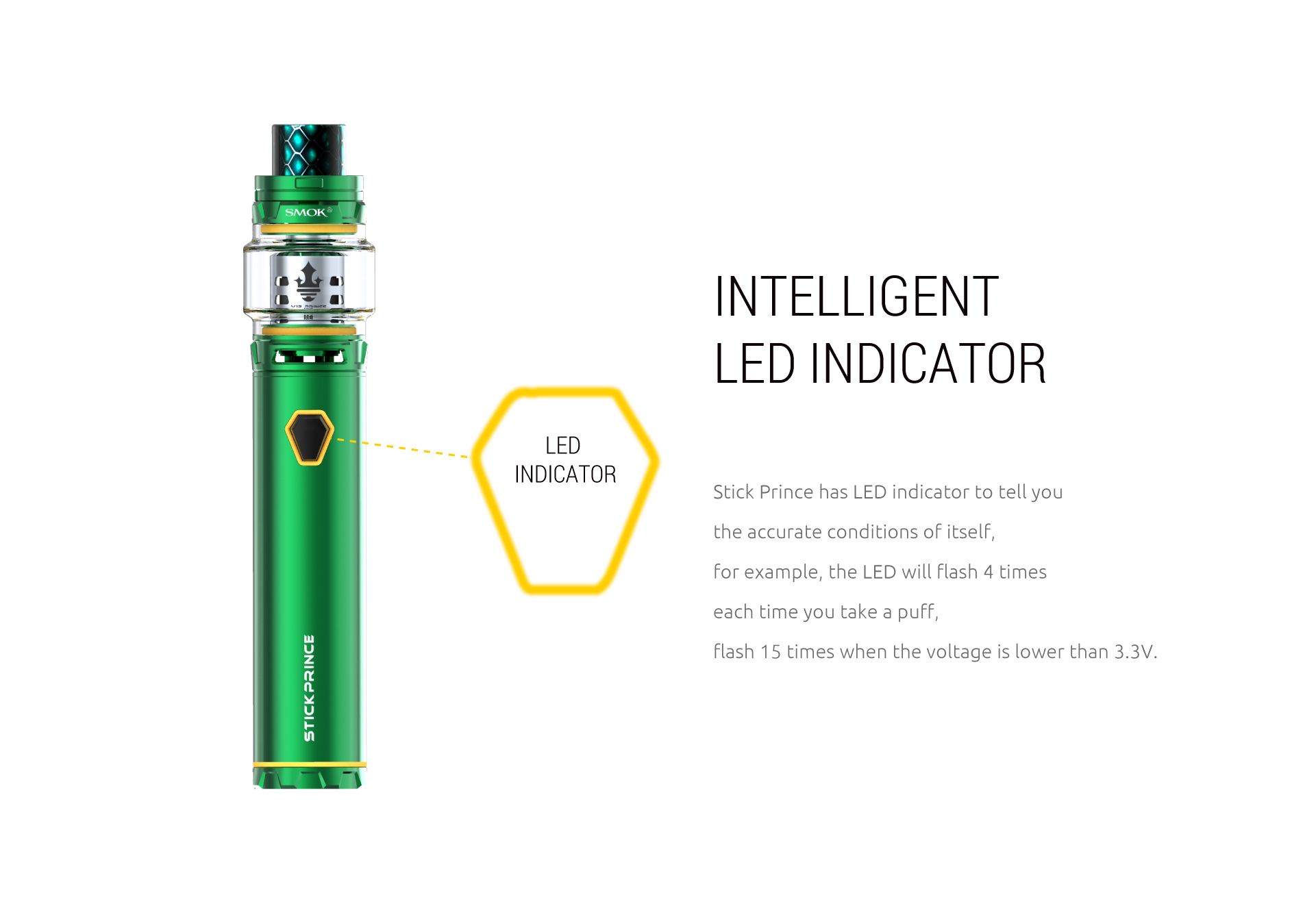 Ask a Question
Is this product included with the very same TFV12 Baby Prince Sub Ohm tank, or is it a typo error ?

Hi Nathan,

The SMOK Stick Prince Baby Starter Kit 2000mAh with 4.5ml Baby Prince Tank, and it does not have the same tank as the regular SMOK Stick Prince Starter Kit, which it comes with the bigger versin of the tank called TFV12 Prince Tank with 8ml capacity.

Hope that differentiate the two models for you.

Regards, Peter N